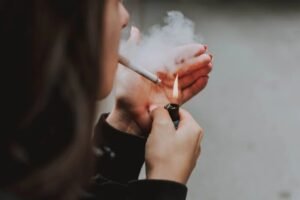 An article on global tobacco usage reported that tobacco use caused more than 8.67 million deaths worldwide, and it's not just firsthand smokers who suffer from the effects of tobacco. Statistics revealed that in 2019 alone, 1.3 million people died from exposure to secondhand smoke.
Contrary to popular belief, smoking not only causes lung cancer but a host of other health complications, too. Experts explained that tobacco use is a major risk factor for the world's leading killers, including heart disease and diabetes. Moreover, smoking is also detrimental to both men's and women's reproductive health, digestive system, and even the immune system.
Surprising Health Effects of Smoking That You Might Not Know
Ectopic Pregnancy
Smoking during pregnancy poses risks to pregnant mothers and the developing fetus since it may cause ectopic pregnancy. Ectopic pregnancy is a life-threatening reproductive complication that occurs when a fertilized egg implants outside the uterus. This happens because Cotinine, which is found in tobacco products, triggers a reaction within the fallopian tubes that increases the possibility of an egg implanting outside the womb. Because the fertilized egg can only survive in the uterus, mothers will suffer from vaginal bleeding, dizziness, and pain in the lower abdomen.
Blindness
Smoking also increases the risk of age-related macular degeneration, which is the leading cause of blindness among older adults. Affected individuals will have difficulties focusing on their central vision, which may lead to permanent blindness. This happens because smoking reduces the effectiveness of antioxidants that helps protect the retina and deplete the levels of lutein in the macula. Although most older adults suffer from vision degeneration as they age, smokers are more vulnerable to macular damage that may cause vision loss.
Sleep Apnea
Sleep apnea is a potentially fatal sleep disorder since it narrows the airways and prevents individuals from breathing properly while sleeping. Studies have shown that smoking is associated with obstructive sleep apnea. They found that current smokers are 2.5 times more likely to have obstructive sleep apnea than former smokers and non-smokers combined. This happens because smoking can induce nose and throat irritation that causes swelling of the said organs. It's important that individuals immediately diagnose this condition since it can lead to other medical complications, such as an increased risk of heart disease and stroke.
Tips on How to Quit Smoking
Avoid Smoking Triggers
If you want to quit smoking, it's important to identify and avoid activities that may trigger or increase your urge to smoke. For example, if one of your triggers is smelling cigarette smoke, avoid places where people are likely to smoke, like smoking areas. You can also fulfill your oral fixation by snacking on apples and almonds when you feel the need to smoke. It's helpful to remember that cigarette cravings only last for a few minutes. If you can control yourself in that short time, you can continue to be tobacco-free.
Use Smoking Alternatives
Another smoking cessation method is using nicotine alternatives such as nicotine pouches and lozenges. Top nicotine pouches are available in various strengths and flavors, which allows you to control how much nicotine you will take. Unlike cigarettes, nicotine pouches are 100% tobacco-free, reducing the risks of tobacco-related illnesses. They are easy to use since they come in small packs that you place under the upper lip, which you can also easily dispose of after use. Similarly, popular nicotine lozenges are taken like candy and dissolve slowly in the mouth. This will allow you to have your nicotine intake at any time discreetly. Because they are both tobacco-free, you can satisfy your cravings without the dangerous chemicals found in tobacco products.
Get Active
Physical activity may lessen your urge to smoke. Aerobic exercise, in particular, reduced anxiety and cravings after participants attempted to quit smoking. Apart from helping you in your cessation goals, exercise is also a great way to improve your mental health because it triggers the release of dopamine. Since depression is a symptom of nicotine withdrawal, exercise can help you to combat depression and remain occupied to forget about your smoking urges.
If you smoke and are looking to quit, we hope the above health warnings and quitting tips help.