Huawei, a Chinese telecommunications company, has gained global recognition for its innovative products and services. However, in recent years, Huawei has faced several challenges when it comes to operating in the United States. This article aims to provide a comprehensive overview of Huawei's presence in the USA, addressing issues such as the company's history, its relationship with the US government, and the impact on consumers.
Huawei: A Brief Overview
Huawei, founded in 1987 by Ren Zhengfei, initially focused on manufacturing telecommunications equipment. Over time, the company expanded its portfolio to include smartphones, tablets, laptops, and other consumer electronic devices. With its cutting-edge technology and competitive pricing, Huawei quickly became a major player in the global market.
Concerns Raised by the US Government
Despite its success, Huawei has faced scrutiny from the US government due to concerns over national security. The primary issue revolves around the company's alleged ties to the Chinese government, raising concerns that Huawei's products could be used for espionage or unauthorized data access. The USA banning sales of Huawei products. These concerns have led to the following developments:
The Huawei Ban
In 2019, the US government imposed a ban on Huawei, effectively prohibiting American companies from doing business with the company. This ban impacted Huawei's ability to source critical components, such as semiconductors, from US-based suppliers. As a result, Huawei's smartphone sales in the US market significantly declined.
National Security Concerns
The US government argues that Huawei's telecommunications equipment poses a potential threat to national security. The concern lies in the possibility of Huawei's equipment being used to gather intelligence or disrupt critical infrastructure. Huawei was subject to a US trade ban and these concerns prompted the US government to take measures to limit Huawei's presence in the country.
Impact on US Consumers
The ban and national security concerns surrounding Huawei have had tangible effects on US consumers:
Limited Device Availability
As a result of the ban, Huawei's newest smartphone models, such as the Mate 40 series, P50 series and P60 series, are not available for purchase through official US channels. This limits consumer choice and forces customers to seek alternative brands for their smartphone needs.
Loss of Competitive Pricing
Huawei's absence from the US market has eliminated a significant competitor, which has indirectly affected pricing in the smartphone market. With fewer players, the market dynamics have changed, potentially leading to higher prices for consumers.
Impact on Innovation
Huawei's ban also affects innovation in the US. The company was known for its technological advancements and investments in research and development. Huawei products are still banned in the US, With limited access to Huawei's products and expertise, American consumers may miss out on potential technological breakthroughs.
Huawei's Response
Huawei has consistently denied allegations of any wrongdoing and maintains that it operates independently of the Chinese government. In response to the ban, Huawei has undertaken several initiatives:
Lawsuits and Legal Challenges
Huawei has challenged the legality of the ban in US courts, arguing that it violates their rights as a company. The outcome of these legal battles could potentially reshape Huawei's presence in the US market.
Diversifying Market Presence
Recognizing the challenges in the US market, Huawei has sought to expand its operations in other regions. The company has focused on strengthening its presence in Europe, Asia, and other parts of the world where it continues to thrive.
Future Outlook
The future relationship between Huawei and the US remains uncertain. It will largely depend on several factors: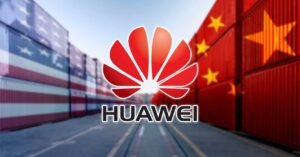 Geopolitical Landscape
The ongoing trade disputes and geopolitical tensions between the US and China will significantly impact Huawei's prospects in the American market. Changes in political dynamics and bilateral relations could potentially lead to a reassessment of Huawei's ban.
Technological Advancements
The rapid advancement of technology could also play a role in Huawei's future in the US. If Huawei can demonstrate enhanced security measures and provide reassurances regarding data protection, it may have an opportunity to regain trust and reenter the US market.
Regulatory Measures
The US government may introduce new regulations and policies regarding foreign telecommunications companies operating within the country. These measures could either further restrict Huawei's presence or provide a pathway for the company to resume business activities in the US.
Collaboration with US Companies
Collaboration between Huawei and US companies could be a potential solution to address security concerns. By working with trusted American partners, Huawei may be able to establish a more transparent and secure framework, which could facilitate its return to the US market.
Can tourists visit the US using a Huawei phone?
Do Huawei phones work in the USA?
How to Buy a Huawei Smartphone If You Live in the US?
In Which Countries Huawei devices Banned and Permitted?
Conclusion
Currently, Huawei faces significant challenges in operating in the US due to concerns over national security and its alleged ties to the Chinese government. The ban imposed by the US government has limited Huawei's presence and impacted consumer choice. However, the future remains uncertain, and several factors will shape Huawei's prospects in the US, including geopolitical dynamics, technological advancements, regulatory measures, and potential collaborations. As the landscape continues to evolve, it is essential to closely monitor the developments and decisions that may impact Huawei's ability to work in the USA.